ALD
This is a personal webpage, reflecting my own personal views and not the views of anyone or any organization which I may be affiliated to or part of.
All the information provided here including recommendations and suggestions should be treated for informational purposes only and not a coercion to follow.
The author should not be held liable for any informational errors, incompleteness, delays or for any actions taken in reliance on information contained here.



Introduction:
Fatty Liver develops in 90% of individuals who drink > 60g/day alcohol which is usually reversible with abstinence after 4-6 weeks but progression to fibrosis and cirrhosis can occur in 5-15% even with abstinence.
If the consumption >40g/day, risk of cirrhosis is 30% or cirrhosis 37%
Alcoholic Hepatitis can occur in 10-35% of hospitalized alcoholic patients
AH once abstinence, 27% normalize, 18% progress to cirrhosis and persistence AH in 55% (by histology)
Risk Factors:
Type and amount of alcohol
Male (>60g/day) and female (>20g/day) >10 years results in cirrhosis in 6-41%
Worsens dramatically if lifetime alcohol intake >100kg (30g/day): odds 13.7 (Cirrhosis) 23.6 (liver disease) vs non drinkers
Outside meal time risk increased 2.7 fold vs meal time drinking
Binge (5 drinks for males, 4 drinks for females)
Women (14 unit/wk vs males 21 unit/wk) 1 unit = 8g alcohol
Malnutrition
Genetic
Viral Hepatitis

Sensitivity of CAGE
Score of 2 or more has a sensitivity of 93% and a specificity of 76%
Prognosis in AH
Maddrey score 32 or more has a 30 – 50% mortality at 1 month

4.6 * (PT patient – PT control) – (TB in mg/dL)
1 mg/dL = 17.1 umol/L Bilirubin

MELD less consensus, >11, >18, >19, >21???

2 or more increase in MELD in 1 week independent predictor in hospital mortality prediction
Treatment: (Alcoholic Hepatitis)
Abstinence

66% improve in 3 months (clinical) but relapse rate in 1 year 67-81%
Can help with disulfiram, acamprosate, naltrexone
After an episode of AH, there is NO safe limit of ETOH

Nutrition

Positive nitrogen (Mortality 3.3% vs 58% in negative nitrogen balance)
2000kcal/day better than prednisolone alone (8% vs 37% at 1 month)

Steroids

Especially in Maddrey >32, encephalopathy subgroup
(Mortality 84.6% vs 65%, 30% RR reduction, 5 NNT)
Dosage: Pred 40mg daily 4 weeks, then tapered / stopped over 2-4 weeks
Note: Small study show Maddrey >54 (pred group mortality higher than no pred)

Lillemodel: Age, albumin, PT, bilirubin, change in bilirubin over 1 week, Renal insufficiency: Calculates patients that were on steroids' their 6 months mortality (<0.45 15%, >0.45 75% mortality)
Anticytokine Rx

Pentoxifylline 400mg tds 4 weeks: In house hospital mortality 40% lower
Infliximab/Etanercept: Data is sketchy and not recommended for mainstream yet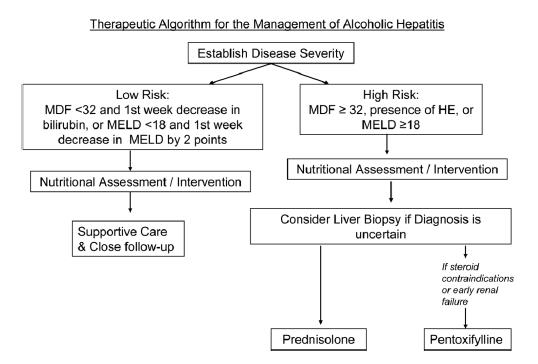 Long Term Mx ALD
Nutrition:
Branched chain amino acids, supplemental protein (1.2-1.5g/kg protein), 35-40kcal/kg energy
Silymarin, colchicine, PTU, thalidomide, misoprostol, adiponectin, probiotics has not enough data to recommend.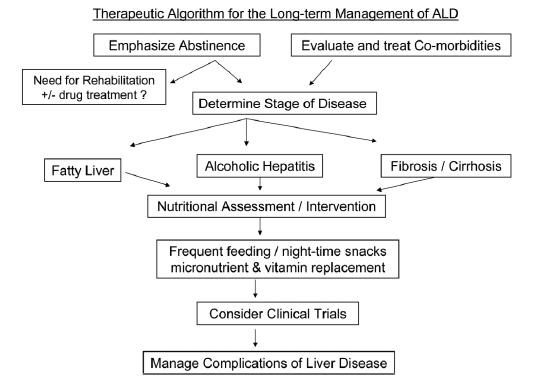 edited 3rd August 2010