Antithrombotics
This is a personal webpage, reflecting my own personal views and not the views of anyone or any organization which I may be affiliated to or part of.
All the information provided here including recommendations and suggestions should be treated for informational purposes only and not a coercion to follow.
The author should not be held liable for any informational errors, incompleteness, delays or for any actions taken in reliance on information contained here.
Antithrombotics in Endoscopy:

Consider:
Bleeding related solely to antithrombotic

Bleeding related to an endoscopic intervention performed in the setting of antithrombotic use

Thromboembolic event related to interruption of antithrombotic therapy
Low risk of bleeding during procedure:
All diagnostic procedures including mucosal biopsy

ERCP without sphincterotomy

Diagnostic DBE

EUS without FNA

CE

Stent deployment without dilatation
High risk of bleeding during procedure:
Polypectomy

Therapeutic DBE

ERCP with sphincterotomy

Procedures with bleeding potential in an unaccessible site or uncontrollable with endoscopic means

PEG

EUS with FNA

Dilatation

Endoscopic haemostasis

Tumour ablation

Variceal treatment
Low risk of thromboembolic event:
DVT

AF without valvular disease

Bioprosthetic valve

Mechanical valve in aortic position
High risk of thromboembolic event:
AF with valvular disease

Mechanical valve in mitral position

Mechanical valve with a previous thromboembolic event

DES on DAT < 1 year, BMS on DAT < 1 month

EF <35%

H/O thromboembolic event

Age >75 y.o.

ACS

Non stented PCI after MI
Rate of major embolism in patients with mechanical valves
In absence of antithrombotic therapy is 4 per 100 patient years

With antiplatelet 2.2 per 100 patient year

With warfarin 1 per 100 patient year
AF which is nonanticoagulated has an annual stroke rate of 4.5%
ELECTIVE ENDOSCOPY:
Risk of continuing antiplatelets:
Diagnostic endoscopy:
No bleeding in endoscopy with or without biopsy while taking either ASA of clopidogrel
Even warfarin is safe for low risk endoscopy with or without mucosal biopsy in OGDS and Colonoscopy
Colonoscopic polypectomy:
ASA/NSAID has low post polypectomy bleeding
Warfarin within 1 week has a higher risk of bleeding which polypectomy clip doesn't prevent.
Sphincterotomy (0.3 – 2%) and PEG (2.5% bleeding without antithrombotics):
Anticoagulation within 3 days increases risk of bleeding
ASA / NSAID for 7 days hasn't been shown to reduce the risk of bleeding
Risk of stopping antiplatelets:
Absolute risk of an embolic event whom anticoagulation is stopped 4 – 7 days is 1%
If antithrombotics are temporary and the procedure can be delayed, it should be delayed till after stopping antithrombotics
Reinitiation of antithrombotics:
No consensus on the optimal timing of restarting antithrombotics
If low risk, attempt to restart within 24 hours while if high risk, to restart as soon as bleeding stability allows
ACUTELY BLEEDING PATIENTS
No prospective data to determine safe level of INR for endoscopic therapy.
INR < 2.5 seems to be safe
Restarting antiplatelets within 1 week increases bleeding by 2x (19% vs 11%) but the risk of mortality at 2 months improves markedly (1.7% vs 14.5%)
Others:
Minimum DAT for BMS is 1 month and DES is 1 year
ASA alone has more safety data than Clopidogrel alone once DAT period over.
GIB in ACS: 4 – 7 fold mortality than ACS alone
Endoscopy risk is up to 12% on same day of ACS, usually 1 %
GIB leading to ACS has a higher risk of needing endoscopic treatment compared with ACS followed by GIB
Antithrombotics in elective setting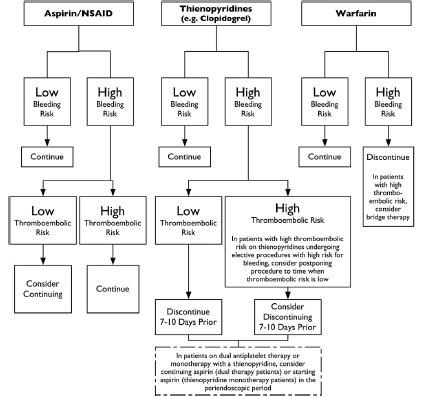 Antithrombotics in emergency setting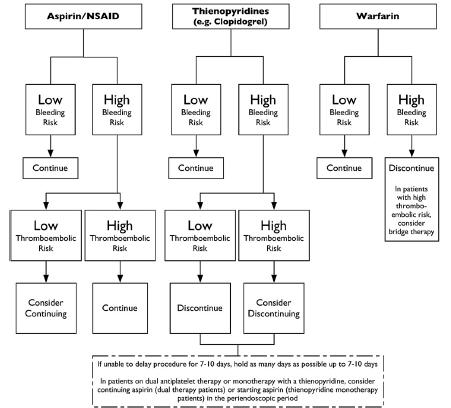 edited 16th July 2010